what makes you different?
You succeed by telling potential customers who you really are through visually and conceptually persuasive materials for print and the web.
"I invited Olga to work with a favorite client of ours, Dole Foods. Olga worked directly with the CEO's office, saving significant marketing dollars while publishing a new website. The client was thrilled with the outcome and Olga's expertise really shined through."

Why Choose You?
Fundamentally, this is the one question that your website and supporting materials must answer. At ohso! design, we won't try to make you appear better, faster, or cheaper. Instead we will focus on the things that make you the very BEST in your field.
Our CEO Recently Featured In
Welcome to ohso! design, where every project is as special as its individual needs.
Through custom-built websites, eye-catching print pieces, and expert e-commerce marketing, ohso! design is all about measurable results. We're a small powerhouse of four experienced creative and development professionals, Olga, Jamie, Jim and Sarah. We also work with a wealth of incredible partners for video, SEO, social, online advertising and more.
"Olga's attention to detail and professionalism is unmatched by anyone we've worked with. Her creative ideas and assistance have gone far beyond the call of duty. She does it all – websites, marketing, print – and she does it all very well."
Featured Projects
Local Pediatric Clinic

Created a full marketing strategy—from logo and website design to SEO and standing out on Yelp—in order to bolster interest in Long Beach's brand new pediatric clinic.

National Non-Profit

Fundamentally answered the #1 question (namely: With so many nonprofit events to choose from, why choose Standup For The Cure?) through several award-winning efforts that raised more than $650K.

Esteemed Oscar Winner Members

Worked with the client's core team in order to benefit an exclusive membership by way of a dynamic new website with energized front-end design, deftly coded advanced features, and compelling video.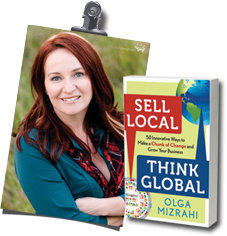 Our founder, Olga Mizrahi is author of Amazon's Hot New #1 business book Sell Local, Think Global
"Olga was a rockstar guest today on "Brains Are Sexy" at KBeach 88.1HD3! …Whether marketing a business or yourself, Olga's book "Sell Local, Think Global" is a must read!!! Highly strategic, practical tips that will get you the job, the client, the contract. Olga is a powerhouse. Intelligent, accomplished and authentic, she is a leader of today, inspiring the leaders of tomorrow."